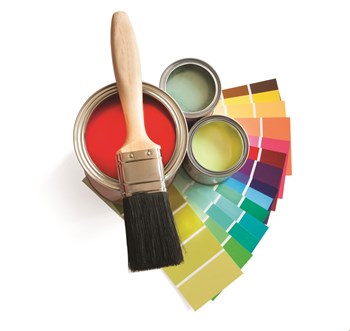 Volumes of research have been conducted on the practical and aesthetic applications of color. For better or worse, color—in private and public spaces—affects human behavior; it can manipulate mood and perception. A board planning to redecorate or refurbish common spaces must carefully ponder color options. What looks best? What do color choices say about the building and its residents? What impact does color have on the value (both actual and perceived) of the building?
There is a reason so many nations, sports teams, and corporations favor red, white and blue—and why those same nations, sports teams, and corporations tend to steer away from lavender, burnt sienna, and mint green. Casinos are big proponents of the use of color to enhance mood—they want you to be comfortable, but to lose track of time, too. The unusual color combinations of casino carpets, believe it or not, enhance all of that.
Mood Swings
"The idea that color can affect moods is actually completely based in science," says New York City-based Kim Depole, owner of Kim Depole Designs, Inc. who works extensively throughout New Jersey. Studies validate anecdotal research. "For example, if you are in a red room, it will raise your blood pressure. If you're in a yellow room, you'll get a headache after a sustained amount of time. A blue room will provide a sense of calm, and a green room will—believe it or not—help you be more articulate."
This means that it is possible to work backwards—to choose a color based on the corresponding mood. "There's color symbolism and color psychology. For instance, McDonald's uses yellow because yellow makes you hungry. So color definitely has an impact," says Jonathan Baron, ASID, president of Baron Designs, and a New York State certified and licensed interior designer. "I may choose a deep rich purple for a building's logo, or the sign out front, because purple is a color that's symbolically related to royalty. Now, I wouldn't do a whole lobby in purple, but the logo as an accent color could be the purple, and the rest of the building could be in beiges and browns."
How does this apply to a residential building? "The color scheme also needs to make people comfortable," Baron explains. "So even if there's a red brick wall, it doesn't mean I'm going to do the other wall in cherry red. I'm creating color schemes that are gentle, complimentary, and comforting. I can't go into a lobby and use dark, dark gray just because I like that color. The people in that building are not going to be comfortable with that."
When it comes to real estate, the colors must evoke proper emotion. The hallways have to create a sense of comfort and safety. The common rooms should provide a sense of calmness, not a splitting headache. Furthermore, anyone selling an apartment knows that wacky colors are a big negative when planning an open house (although this writer has had good luck selling property with walls that are not white).
"Recently I walked into a building lobby, and it was trying to make a real contemporary statement," says Liz Morehouse of Manhattan-based Morehouse Design Associates, Inc., who has designed residential properties in New Jersey. "But they had used so much white—it was so sterile—that you felt like you were walking into a hospital. It had no warm friendly feeling; it was just very sterile. So you don't want to overdo white, and you don't want to overdo grey… it's too somber. You really just have to mix it up."
"I have a theory about color," says Cathie Daly, president and principal of Design East, Inc. in Medford. "We can't afford to not specify a color that is not timeless. When you walk into a building that we specify, it has to look timeless and great today and after five or ten years. It has to have a long-term investment and it has to be very sophisticated and approachable, and have a level that crosses over generations and genders."
Mix It Up
Mixing it up is a combination of art and science. "People respond more favorably to warm colors," says Morehouse. "In a hallway, I might pick a warm beige carpet with an accent of a crisp blue color, a combination of the warm with a brighter color. In a lobby, I might do a sofa in a warm color, but then I'll put a pop-up color on a throw pillow. And with area rugs, you can mix a whole lot of colors for a lobby, almost like a mosaic tile. So I would mix warm and cool colors."
In residential buildings, rethinking an entire color scheme is a major project. Designers are aware of this and strive for longevity. "Because fashions and styles change over the decades, I remain conservative with my color choices," says Baron. "This means working with the inherent architectural material colors. I don't get real crazy. And if I do use something like chartreuse green, I may make it as an accent wall. But my goal is for these lobbies and hallways to last fifteen years. I'm finding that fifteen is the number."
Morehouse has the same life span in mind. "Usually you live with a hallway theme for 12 to 15 years," she says. "So you need to think in terms of colors that you're not going to get tired of. Recently, I redid some halls that had a bright, Howard Johnson's orange carpet. We ended up doing a dark charcoal background with browns, taupes, and whites and a little bit of gray. Usually, in hallways, you keep it kind of neutral, but still have an accent color. If you keep a warm base, you can still have a blue accent or something."
Depole finds that the looks that endure tend to reflect nature. "There are trends," she says. "Tangerine orange was the hot color but then that eventually looked dated. I much prefer to find something that relates to people's sense of well-being, which generally is always related to nature in some way. Not that I have to have a sage green and brown palate all the time."
The use of color should be judicious. Some palette is necessary, more than just 50 shades of gray. At the same time, a lobby shouldn't look like the Crayola factory. "You just have to stay away from the bright reds and oranges," Morehouse says. "For a while, forest green was a popular color, and that's out of style now. Colors do vary from year to year, but you want to stick with classic colors."
Designers look all over for inspiration. "My greatest resource for design is art," Morehouse says. "It might be from the 16th century, not necessarily contemporary, but I'm definitely informed by that. Matisse is the master of all. If I want a little color inspiration I go to MOMA. I go to the Reuben Museum. There's a lucky person there that gets to do nothing but pick the wall color that relates to the exhibition. Sometimes, I go there with my color deck, and I'll match it."
But if all else fails, take a stroll through the park. "There's nothing more incredible to inform your color palate than something like fall colors," Morehouse says. "You can get the nuances of green and yellow just by going out and looking at the leaves in Central Park. What more do you need?"
Coming up with a suitable color scheme is different in an existing building than in new construction, when the designers and architects are working together. Older buildings tend to have features that are not alterable, and that must be worked into the design.
"When I come to a building, I'm usually a remodeler," Baron says. "The building was built in the '60s, the '40s, or earlier. Every building has its own inherent architectural materials and colors. I immediately gather that visual information…that's how I begin to generate my color scheme. There could be terrazzo floors that are gray, black and beige, or dark jade green. Or there may just be red brick that for some reason ran inside the building. So I have to distinguish with the owners: what are the intentions, what's the budget, what's the goal here? And then I'm able to come up with a color scheme."
Sometimes, color choice can be easier if a building has elements that can't change—not unlike how a poem can be easier to write if in strict form. Decorating a building is like writing a sonnet, in many ways.
"Our job is to create the many parts of the whole," Depole says. "What's the whole picture of the entire building? Is there a branding color for the building? Is there a logo? What is the floor finish? The floor informs the wall, which informs the lighting, which informs everything. It's all a sum of the parts."
Boards might think that enhancing the design might be prohibitively expensive. That's not always the case. In fact, a little color can go a long way.
Greg Olear is a freelance writer and a frequent contributor to The New Jersey Cooperator. Freelance writer Christy Smith-Sloman contributed to this article.