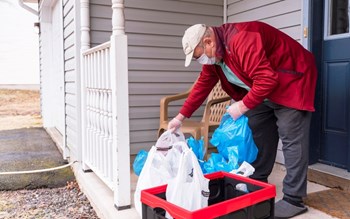 In these days of deep uncertainty and profound challenge, it's easy to feel swamped by the flood of grim news surrounding the coronavirus pandemic. But amid all the hardship and tragedy, people and communities are pulling together to help and look after each other.
One example of this is a condominium community in Woburn, Massachusetts that, according to attorney Ed Allcock of Braintree-based law firm Marcus, Errico, Emmer & Brooks PC, has formed a 'Compassionate Care Committee' to help support and assist its more vulnerable residents. According to Allcock, most of the residents in the 147-unit community are over 65, and about a third of them are over 80 -- placing them in a demographic at significantly higher risk for coronavirus complications.
According to Allcock -- whose firm represents the condo -- "This community has been all over the issue since the virus broke. They have stepped up the use of in-house and contractor help to regularly disinfect common areas, and formed a committee to assist those that have confirmed or presumptive cases and are quarantining. What they are doing for residents is remarkable. They are gearing up to buy groceries, deliver mail and packages, run necessary errands, walk dogs, remove trash, and maintain communications with other residents to ease the feelings of isolation."
The association's Compassionate Care Committee is made up of resident volunteers, all of whom are provided with an information packet outlining procedures and best practices to be followed as they support and assist their neighbors. For example, committee procedures include assessing and sourcing the supplies needed to maintain members' safety, assigning volunteers to aid individual residents in quarantine, and having substitute volunteers lined up in case someone is unable to carry out a particular task or errand. The Committee has also provided for a dispatcher role to be created if necessary to correct any gaps in coverage, and make sure quarantined residents are receiving reliable assistance. For a complete, printable copy of the association's Compassionate Care Committee Procedures, click here.
Allcock says he's extremely impressed with the association's members and their commitment to support each other through the crisis. "As the 2020 President of CAI New England and the College of Community Association Lawyers," he says, "I am proud and encouraged to see such positive community outreach during these difficult times. It's a nice example of a community coming together."
Allcock adds that he intends to promote this community's approach to others in New England and nationwide as a model for community associations, and he invites trustees and association managers who are interested in forming Caring Committees of their own -- or who just have other positive news or developments about what their communities are doing to deal with COVID-19 -- to reach out to him at eallcock@meeb.com.