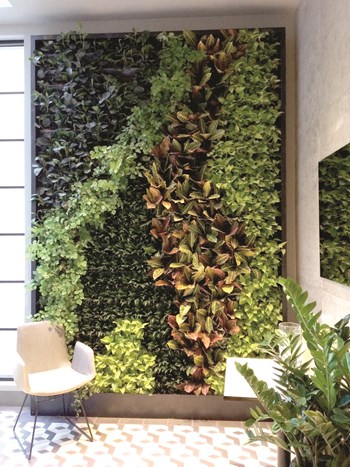 A green wall in a residential space is like having both an indoor garden and piece of art all rolled into one—and you don't even have to travel far to a botanical garden or a museum to experience it. It's a currently a very popular trend in landscape design in which walls are covered with plants and can be found these days in some businesses, public spaces, and homes.
Not only will green walls (also known as living walls or vertical gardens) appease the conservation-minded, but they also provide an opportunity for boards and managers to think about how they could spruce up their lobby or common area. Installing a green wall in a residential building is sure to be a conversation piece between tenants and visitors, but there are definitely things to consider before embarking on such an undertaking.
The Benefits of Green Walls
Those who specialize in green walls agree that the major advantage of having them is purely environmental. "There's a huge interest in what plants offer, in terms of benefits for improving indoor air quality or reducing stress," says Michael Coraggio, chief executive officer and founding principal of EcoWalls, based in Bordentown, New Jersey. "A lot of the developers that we work with in the mixed-use arena are looking to create a certain context and space, where people that are in their buildings can go and experience nature and the garden, and some of the holistic benefits that the plant material has to offer."
It's a similar sentiment that's shared by Sean Campbell, president of Grundys Plantscaping, which serves the greater Philadelphia and New Jersey areas. "They create ambiance of well being and happiness, they help reduce stress levels for people," he says. "They act as a sound insulator and thermal regulation...High-end residential or corporate spaces are investing in plants in more of the common areas where people can go take a break and relax."
Setting, Pests, Costs: What to Consider
Before Installation
Boards or homeowners associations who are interested in installing a green wall (which could consist of panels or trays, according to national landscaping company Ambius) in their common space should think about the structural factors involved, including whether you want the vertical garden mounted on the wall or make it a freestanding structure.
"You're gonna want to address things like the load-bearing capacity on the wall," says Coraggio. "You wanna make sure that whichever system you're using, the wall can support the weight of that system plus the plant material. Our system, for example, we're at about 9 pounds per square foot, fully saturated and planted, so we use a hydroponic growing medium in our system. So you wanna make sure that the wall can support that, plus the plant material...Just like having plants in a building or any sort of living material, there is some level of cultivation and care that will go along with any green wall."
Bradley Bowen, president of GreenWalls, LLC, located in Philadelphia, describes the structural considerations as simple. "They just need to have a solid wall to mount our plant containers to, usually like a ¾ inch plywood or 16-inch studs, and then they have to have one water connection, and [electricity] for our timer and pump." He also recommends that anyone looking at a green wall system should think about how they are going to maintain it.
Of course, there's watering and lighting to consider in addition to deciding whether the site is suitable for an installation. "You're gonna have to have a source of water for the irrigation," says Campbell. "You're gonna have to have a water line run to the area and a drainage line run. Just as important to that is lighting. If you don't have the proper lighting for the wall, the plants are gonna suffer and they're just not gonna do well."
Like any plant environment, green walls are not immune to the problems of attracting pests such as insects. "It's really critical for people interested in living walls to do their homework and research the performance metric of the [wall] system they're looking to install," Coraggio says, "because certain systems demonstrate a much better ROI (return on investment), meaning you're not going to require as many plant replacements. For example, our system has an integral injection system attached to it. So if you get a pest insect, you're not having to spray the seeds of the plants and do all this harmful or clinical spraying in the interior environment. We could simply put the insecticide into the water that's watering the living wall and treat it that way."
According to Coraggio, the costs involved in pricing a green wall accurately depend on different variables such as "plant material, the location, or what sort of equipment is being required to install and maintain the system. For example, a very short living wall that doesn't require any scaffolding would probably be less costly to install than something very tall...We know that our clients have a general price point to see if it fits to their expectations and where they're at. Usually, we're looking at anywhere from a $180 [per square foot], fully installed and planted, so that's the turnkey price point—to around $225 [per square foot], fully installed and planted for our projects."
With different types of green walls come different prices, according to Bowen. "You can go from some that are hanging baskets on walls, and you can go to some that have very intricate designs like hydroponically-based walls. The hanging plants that are attached to the wall and pockets can cost less. You want to get something that is easy to maintain. I would say that's right in line with average commercial construction costs per square foot."
Plant Types That Do Well in a Green Wall
There are certain plants that perform well as part of a green wall, according to Campbell. "Some of the basic plants that do very well are Pothos and Neon Pothos. They give a great contrast because one's a bright yellow and one's a dark green. It really all depends on your lighting situation and the environment that it's going to be in. So if it's going to be an indoor green wall, you would have a lot of your Florida tropical plants in there, and it all depends on the lighting situation."
Coraggio adds that the plants they select are very site specific, based on testing different plants and measuring certain conditions. "We're choosing plants that have really good performance measures--meaning they're pretty durable-- to select as our base plant palette."
From Planning to Build-Out
Installing a green wall usually begins with a consultation between the green wall specialist and the client, which can include an inspection of the site. "We look at the client's space and usually they furnish drawings," Bowen says of his company. "They'll tell us where they want the wall, and we will give them a proposal. We'll provide them a catalog of plants they can select based on the location of the wall inside or outside. The two requirements they have to do is electricity and water and then we'll all come in and install it. It's a turnkey-type situation."
Speaking for his firm, Campbell says the consultation consists of explaining the whole system to the client, finding out what the client wants, and discussing the budget. "If they accept [the proposal] and they want to move forward it's pretty simple," he says. "We coordinate everything, we bring everything in-house. Pretty much it goes: installing the bracket system, the irrigation system, and the plants. So it's pretty cut and dry once we get past they accepting the proposal process."
In addition to getting the components (water, drainage and lighting requirements) addressed, Corragio's team does what is called a pre-grow prior to the actual installation. "We manufacture a modular system and our modular tiles are about 3 feet by 3 feet by 5 1/4 inches thick. We can pre-grow all those tiles at our green house, pre-planting them, pre-acclimating all the plants. Then right before installation, we simply take apart the puzzle. We put it into a climate-controlled vehicle, and we'll show up with a turnkey finished, fully-acclimated living wall that we'll install after all the utilities are addressed after."
Taking Care of Your Green Wall
The companies that installed the green walls will usually drop in for the occasional maintenance visit. "They come in and trim and just diagnose the wall," Campbell says, speaking for his company. "A lot of it it's being run off of timers for the irrigation, but it still needs constant upkeep. You're doing a little bit of babysitting to make sure it's running properly, and then constant detailing to make sure that the design's kept in place, all the dead leaves are removed. It's just keeping that beautiful aesthetic look.
Bowen advises the building's in-house maintenance staff to not turn off the water. "The water's on a timer. The only time we've ever have walls fail is when someone turns off the water. They turn off for maintenance or they had a leak somewhere else. Once you turn the water off, then the wall's gonna die. "
With proper maintenance, a green wall will ultimately bring a fresh and beautified look to a building's lobby or common area that goes a step beyond decorating it with a potted plant, a vase or a painting—while at the same time contributing to the good of the environment. A building's own vertical garden is sure to make tenants and visitors stop and observe it.
"It's almost like living art," says Campbell. "You're going to have art in the area. And it's just gives a calming effect and it adds an area for relaxation, to go maybe read a book in that area. They may have a ping pong table or a pool table just to go have some fun in that area. You might not be out in nature but at least there's some element of nature around you in that area."
Coraggio brings up the 'wow' factor and sense of excitement associated with looking at a green wall. "Over the long run, especially [for] building owners and developers and people who have residence in mixed-use buildings...there is more of a usability to the space again. And that's where it's been really nice to sit back and see a space being used again and totally enjoyed and people benefiting from the living wall."
David Chiu is an associate editor of The New Jersey Cooperator.