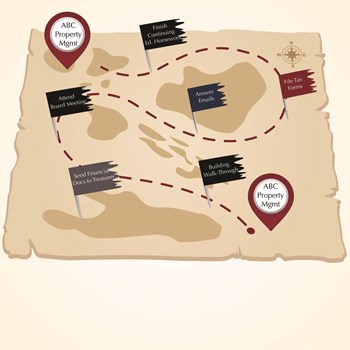 No matter what the size of their portfolio, a community manager must wear a great many professional hats: human resources pro, administrator, mediator, organizer, social director, project manager, sounding board—sometimes even therapist.
If a water pipe bursts, and water pours from one unit to the other downstairs, the community manager gets the call. Same thing happens when the punk rock guy in 7B decides to hold a band rehearsal in his apartment until midnight, or the aspiring opera singer in 6A is practicing her scales ad infinitum. The best managers are the ones who can juggle all these functions behind the scenes, quietly getting the job done without a lot of fuss or drama. Put it another way: the best managers are minor miracle workers.
Absolutely No Absolutes
If there's one absolute about a day in the life of a community manager, it's that there are no absolutes. Every day is different.
"The day-to-day life is hectic," admits Christian Diamandis of Level Property Management in Las Vegas. "Do not put things off! Take care of stuff as it happens, especially important emails and phone calls. Realize that your mistakes are learning experiences, but don't hesitate to reach out to an expert when in doubt."
"It runs the gamut," adds Doug Weinstein, Vice President of Project Management Group Inc., a division of AKAM Living Services, which has offices in New York and Florida. "It is never the same day to day. There's all sorts of preventative maintenance to keep up on, and capital projects to manage. I go to job sites and meet with the contractors and engineers."
Often it's that gamut that draws professionals to the field and keeps them energized. "One of the nicest things about my job is that no day is the same," says Steven Birbach, President and CEO of Vanderbilt Property Management , LLC, in Glenwood Landing, New York. "You might wake up to a leak or a fire or a plumbing issue—every day is unique. The plan can deviate very quickly due to circumstances. It's meeting contractors, board meetings, union issues. I'm very involved, and I oversee each and every property, good or bad."
"The first thing I do is check in with the building staff to see what happened overnight," says Weinstein. "I need to know if there are any mechanical or physical plant issues. Sometimes I will walk around the building. I'll deal with any sort of resident issues. Sometimes it can be as mundane as questions on a bill, while other times it's ongoing leaks."
And a day that starts off easy can get pretty crazy pretty quickly.
"This is not only a service business, because you are dealing with people's most prized possession: their home," says Weinstein. "You may receive calls that a leak damaged someone's entire art collection, or their kids' schoolwork. It may be their most intimate possessions and largest investment. I have been in this business for 30 years, and I'm always finding something new."
The round-the-clock aspect is central to the job, and the best community managers relish the challenge that this poses. "This is not a desk job or a 9-to-5 job," says Weinstein, "and that's what makes it exciting."
Birbach agrees. "There are so many things to do at each property, multiplied by the number of properties [you handle], and it doesn't stop at 5 p.m. You need to be available and accessible 24/7 to deal with problems. It can be for a fire or boiler issues to no-hot water and no-electric. Just one thing after another. And that's what I love about it. It's a great industry if you don't ever want to be bored."
A Special Blend
The best community managers share certain characteristics: excellent communication skills; the ability to stay organized; broad knowledge of the issues that can arise in a multifamily building or association; and the satisfaction that comes with helping people.
"Communication is the number one, in my life," says Inga Hale, a community association manager at Thoroughbred Management in North Las Vegas. "I'm all about emails, phone messages, and calendars. I must have reminders for everything: mailers meetings, classes…you name it. Aside from that, it's important to keep in mind that a person's home is usually the biggest investment that they'll make, so you should treat them as if you were in their shoes."
"In order to be an effective [community] manager, one has to have great interpersonal skills," adds Birbach. "One should also be a good listener—and you can't be uncomfortable voicing professional opinions and recommendations. This comes with experience in the business. For example, we may be getting bids for a new elevator. While the low bidder is more attractive, I've been in the business for 35 years, and I may not know the low bidder, so I don't recommend them. The board is going to choose who they want and assume that it's a quality company, but I don't know if that company will send someone in the middle of the night if the power is out."
Another trait: staying on top of situations before they spiral out of control. "The more proactive I am, the less reactive I need to be," says Weinstein. "Preventative maintenance systems cause fewer breakdowns, enabling me to be less reactive. That extends to physical plant issues, and to communicating with residents. Communicating with residents and boards is key. I think of a building as a vertical village. When there are so many people under one roof, miscommunication may occur. This could be a group email, or at a meeting, or a myriad of different things. More communicating with residents equals fewer problems. I like dealing with a single resident as opposed to a group. This way I can assure the individual that if there is an issue, I am working on it and communicating in a timely manner."
Indeed, communication may well be the most critical part of the job. You have to impart knowledge and wisdom without sounding like a know-it-all, establish a precedent for telling it like it is, and you have to make everyone—the board, the super, the residents—feel that they are being heard.
When Things Get Real
Occasionally what hits you is bad. Community managers can take the brunt of anger from disgruntled residents—or just impatient ones.
"Sometimes I'll receive an email at 9 p.m. from a tenant who will expect a response that night," says Birbach. "After-hours [calls and emails] should be for emergencies, but some residents don't realize that."
Diamandis notes that, while a manager mainly serves as a conduit for decision-making, providing advice, and helping the board to make the actual executive calls, he or she should not shy away from expressing themselves when facing a practical matter. "Your job is to conduct and oversee the business of the association as directed by the board," he explains. "In doing so, remember that it is a business wherein the goal is not profit, but the maintenance of property values and quality of life within the association. All money should be spent with those goals in mind, as they are the measure of success in a community."
"[Community] managers are very professional in what we do, and hope all of our constituents appreciate and respect that," Weinstein says. "Sometimes when dealing with people's homes, emotion governs instead of logic. We strive to do the best job we can, but you may not get the answer you want to hear all the time." Because they are responsible for so much, the buck always stops with them. They take the blame when things go south.
In the final analysis, "Patience and perseverance is key to being a successful [community] manager," says Weinstein. "You have to have thick skin."
Staff writer Mike Odenthal also contributed to this article.