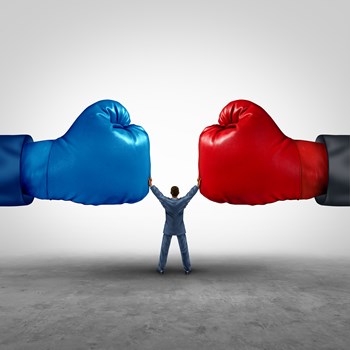 Preventing any and all interpersonal conflict is impossible. But in the context of a condo or HOA board, minimizing and mitigating the problem is essential in order for that board to do its job. Those who volunteer to serve on their board are likely to bring strong convictions—and personalities—to the table. As in any decision-making body, there are likely to be differences of opinion—and while healthy, respectful debate is often a good thing, if the stakes and tempers rise high enough, things can escalate to a point where it becomes unproductive at best—and possibly even dangerous at worst.
If the past year-and-a-half of belligerence, friction, and general bad behavior has taught us anything, it's that board members should actively anticipate arguments among their ranks, and have a strategy on hand to ease tensions and reach an acceptable compromise—before things get out of hand.
Talk it Out
One way to keep things copacetic among board members is to identify the attributes that make for a functional governing body, and reach for those as a baseline when things start to drift apart.
One such attribute is simple civility. "I think that the key to harmony on a board is that its members have the ability to agree to disagree," says Tina Straits, vice president and general manager of Baum Property Management in Aurora, Illinois. "No group of people is going to reach a consensus on every issue. Where there is disagreement, it is vitally important that board members listen respectfully to each other and understand that having a difference of opinion is nothing to take personally."
Good communication—and the ability to calmly articulate why one board member may disagree with one or other persons—is another critical ingredient. "Some disputes are caused by a lack of understanding among board members as to the regulation and operation of the association and the function of the board, which can be due to the inexperience of some of the directors," explains Elizabeth A. Bowen, a shareholder with Florida-based law firm Siegfried Rivera. "To this end, a good management company with the ability to effectively communicate with a board regarding the needs of the association is important.