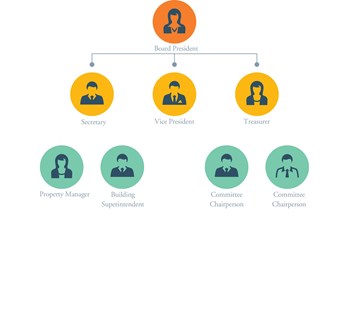 The beating heart of a community association or HOA is the board of directors. According to neighborhuddle.com, the role of that body is as follows:
"The association has responsibility for its common elements as well as the management and operation of the association's business affairs—all in accordance with standards established by the governing documents created when the community was first developed...Members of the board of directors of an association serve without compensation unless the bylaws of the association provide to the contrary. The board's authority includes all of the powers and duties enumerated in general law, as long as these powers are not inconsistent with the provisions of the documents governing the association."
The website goes on to explain the unique mission of the board:
"The association acts through its officers and agents. The board of directors makes the policies for the association, but the officers and agents carry out these policies and administrative functions for the community. Some of the officers are clerical while others carry out substantive functions based on policies established by the board of directors. All of the officers have an affirmative obligation to act with utmost good faith towards the association and cannot deal in the funds or the property of the association to their own self advantage. Each association typically has a president, secretary, and treasurer and may have one or more vice presidents. However, an association may officially conduct its business with fewer officers than these, depending upon the laws of a given state."
Board Structure
Barbara Holland is a regional manager with FirstService Residential of Nevada. She has been managing property since 1971. "Governing documents require a minimum of three directors to as many as seven – not necessarily based upon the size of the community, but rather on what the developer put in the covenants, conditions and restrictions (CC&Rs)," she says. "We have seen some associations over the years that had seven directors, and they have had to change their CC&Rs because they were having a problem finding seven people in the community who wanted to volunteer.